Benefits of Responsive Web Design for Your Business
Is your online business website optimized for all types of devices?
If the answer is NO, then you are hampering your business and definitely not getting the desired outcomes.
With the advancement in technology, keeping up with the ever-changing algorithms and updates can be challenging. But, if your business lacks updates and does not follow the user-friendly pattern, then unfortunately, you will be out of the league in no time.
Your website must be user-friendly, flexible, and have responsive web design to help you achieve desired business outcomes.
As mobile usage is speedily increasing all around the world, your website should work impeccably on multiple devices, including mobile, desktop, tablets, and all types of devices.
With that said, you would be wondering about the benefits of a responsive web design. So, let's delve into this and find out!
But, first, let's know…
According to the latest statistics by Worldometer, over 4.8 billion people around the world use the internet every day, thus making it the best platform for businesses to promote their products and services. Internet marketing involves a combination of various strategies that promote your company's products and services via different platforms like emails, websites, online advertising, blogging, podcasting, paid promotions, and social media.
Statistics also show that the internet marketing industry will have a value of approximately $412 billion by the end of 2021. This proves how crucial internet marketing services are for your business. Honolulu has various digital marketing service providers, but we are at the helm because of the range of internet marketing services that we provide at budget-friendly prices.
Whether you wish to promote your company by sending emails to your target audience or through social media, developing content for the marketing campaign is crucial. In fact, every aspect of Honolulu internet marketing services is content-driven, meaning you need to convey a concise but impactful message that tells a lot about your products.
What is a Responsive Web Design, Actually?
A responsive web design is mainly a technique used by expert developers to create websites that adapt to the size of the user's screen for all types of devices (smartphones, desktops, tablets, etc.).
For the best user experience, responsive design changes the page layout according to the screen size and displays it in an orderly manner.
Most online businesses are following this responsive web design trend to target smartphone users' web traffic.
What are the Advantages of a Responsive Web Design?
In the modern age, the advantages of a responsive web design are many.
So, without much ado, let's discuss the top responsive web design benefits right away.
Here we go!
1. Better Experience for Users
First things first, a professionally built, flexible and responsive website is important for enhanced user experience.
When it comes to the website, the first impression is everything!
The more a user is spending time on your website, the better it will be for your business.
So, whether a user is browsing your website from a desktop or a smartphone, a responsive web design is the key to providing a positive experience.
If your website is not designed properly for multiple devices, and there are issues with various screen sizes, then the users will instantly jump to other websites.
2. Increased Mobile-users Traffic
The number of mobile users is rapidly increasing worldwide, and it's a great opportunity for online businesses to grow traffic and target mobile users' audience.
If your website renders faultlessly even on smaller screens, then the chances of your business booming are more. You can hire a professional team that offers a responsive website designing services to build a flawless website.
Moreover, you can also have a separate version of your website for mobile users that is specially designed for them only. Many businesses still follow this pattern to diverge the traffic and ensure the website runs fast and smoothly.
But, with two different websites, you will have to go with different strategies, so it's better to have a single multi-device-friendly website that works on all screen sizes.
3. Improved SEO Visibility
One of the biggest advantages of responsive web designs are improved SEO visibility. According to Google, a responsive website with stronger backlinks, improved mobile users' SERPs, and lower bounce rates will have more chances to rank higher.
The responsiveness of your website will be a determining factor of your website rank on search engine results. If your website is not responsive, then search engines like Google & Bing will not place it on the first pages of results and give a better position to mobile-friendly websites.
So, it's clear that responsive design makes your website mobile-friendly, thus giving improved SEO visibility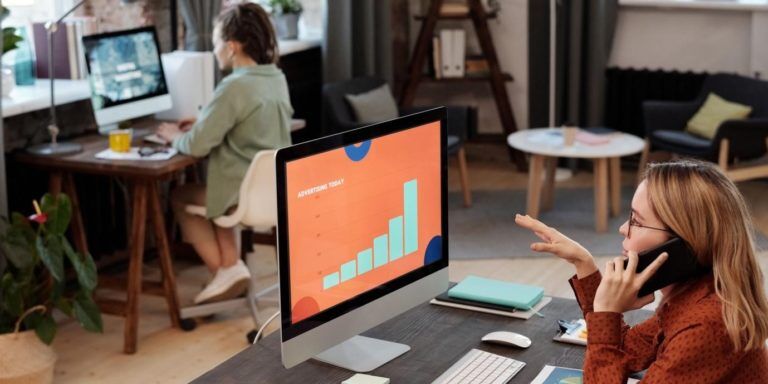 At some point in life, we all have been annoyed by that loading website and skipped to a better one. That generally happens when a website is either designed poorly or is not taking more than 3 seconds to load.
Bounce rate is the percentage of visitors that bounced from your website after exploring a single page only.
For a better user experience, you must keep the bounce rate factor in mind and make sure your website loads faster, navigates smoothly and is designed perfectly.
If your website is not responsive, the user engagement score will be low, and nobody will stick around for a longer period.
5. Better Conversion Rates
For enhanced business, you need more customers, and that happens when your website has better conversion rates.
A responsive website will assist in improving user experience, which further helps build trust in your brand. And, once the user is happy overall, the chances of them getting products, services, or business from you are guaranteed.
A well-known responsive web designing company can help you build a professional, unique, and secure website that works on all platforms.
With lower bounce rates and consistent user experience, your business will witness higher conversion rates, undoubtedly.
6.Super-easy Website Maintenance
When you have two versions of a website, one for desktop and the other for mobile devices, then your development team will have to spend more time and resources to maintain both.
But, with a single responsive website, maintenance tasks are much easier. Your development team won't be busy with testing and support all the time. The experts will have enough time to focus on core tasks such as content creation, marketing, product development, A/B testing, and more.
Having multiple websites for different devices will require more effort, time, and resources, which you can skip by going for a professionally built responsive website.
There you have it! These are the top benefits of a responsive web design that can help your business grow in Hawaii.
With a responsive website, your business will gain the potential to attract wider audiences and have improved conversion rates. If you want the users to spend enough time on your website and come back every time they need info, product, or services, then having a responsive website would do wonders.
So, don't wait anymore; treat your business with a professionally built responsive web design and stay ahead of the competition.
Want to talk soon?
Find an available time and we can connect soon.Book a no-obligation online consultation with us!
We'd love to hear from you!
Ready to progress together? Tell us about your requirements and we would be happy to help you. Please submit your query and we will be in touch!
Book your Free Consultation on our calendar now