Powerful SEO Tips to Boost Traffic to Your Website
Building an attractive website is just a deed half done. For a website owner, getting a higher ranking on Google holds equal importance. But the truth is, despite creating an awesome website; your website remains unnoticed and unfamiliar among prospects. SEO is integral to your business's success. And implementing SEO strategies boosts your website ranking. But what is traffic in SEO?
According to the latest statistics by Worldometer, over 4.8 billion people around the world use the internet every day, thus making it the best platform for businesses to promote their products and services. Internet marketing involves a combination of various strategies that promote your company's products and services via different platforms like emails, websites, online advertising, blogging, podcasting, paid promotions, and social media.
Statistics also show that the internet marketing industry will have a value of approximately $412 billion by the end of 2021. This proves how crucial internet marketing services are for your business. Honolulu has various digital marketing service providers, but we are at the helm because of the range of internet marketing services that we provide at budget-friendly prices.
Whether you wish to promote your company by sending emails to your target audience or through social media, developing content for the marketing campaign is crucial. In fact, every aspect of Honolulu internet marketing services is content-driven, meaning you need to convey a concise but impactful message that tells a lot about your products.
Simply put, SEO traffic monitors the number of visitors coming to a website and how they got there. This method breaks down the number of people arriving at the website via organic and paid searches. It's important because it improves the website visibility, generating leads and sales.
The higher a page ranks on Google, the more traffic it achieves. Decent SEO tactics assist in ranking your content higher for target queries. The given SEO tips may guarantee amazing results by helping search engines and prospects find you.
7 Smart Tips to Boost SEO Rankings and Traffic
Here's the comprehensive list of 7 smart tips to boost SEO rankings and traffic.
1. Improve Your Keyword Approaches
A solid keyword tactic aims to attract customers who are ready to make buying decisions. At the same time, it also attracts prospects who are surveying the product or service with a buying intention. Understand the value of keywords by performing keyword research before launching SEO approaches.
A strong keyword tactic helps you outshine your competitors. Add relevant keywords but do not choose words that every brand vies for. Conducting a keyword gap analysis will give you a better insight. Identify words for which the competitors rank on search engines. Then, you can easily craft relevant content around those keywords accordingly.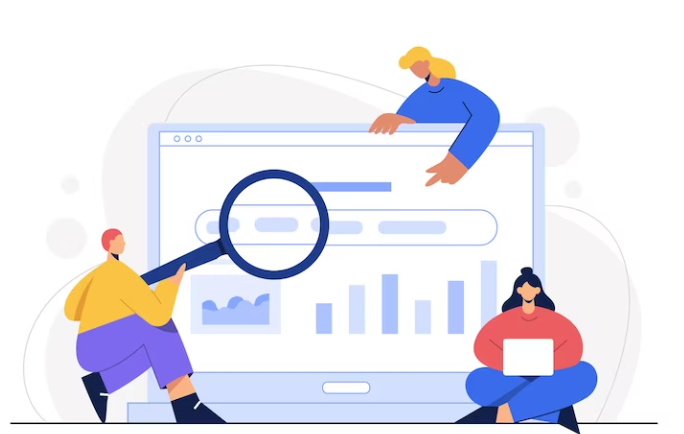 Forgetting to apply SEO tactics to URLs is the biggest mistake. Search engines always consider keywords in the website's URL. So, if your website uses dynamic URLs on numbered pages, it is time to replace them. Opt for static URLs to troubleshoot the situation.
Add relevant keywords to the address but refrain from making the URL a keyword-packed sentence. Using hyphens to break the words in a URL also makes sense, rather than cramming all of them together. 
3. Build Targeted Landing Pages
Are you wondering how to get free website traffic? Well, it's always great to direct a website visitor to a landing page that features elements they take an interest in. After all, it helps prospects engage with the website. So, ultimately, it also improves your business prominence.
Use website analytics to craft web pages highlighting content tailored to the audience's priorities. That can be a special promotion depending on posts that someone reads or updates on a product's new features. You can also build personalized text and creative tags.
Now, what do you mean by a tag? Simply put, it is a label for a contact informing content that you can offer your customers, ensuring relevancy.
Local search engine rankings allow people to discover websites for localized solutions in a geographic region. For example, if a customer resides in Florida and needs plumbing services, they type, "Plumbing services in Florida."
That will increase the brand's local search reputation and can garner local business from the ones in the neighboring areas. In addition, prospects can also submit testimonials to discuss positive experiences. As a result, it establishes the business's credibility.
5. Social Media Engagement
Social media is an imperative tool that helps businesses gain more prominence. One of the effective ways to improve a website's presence is by using social media. A business can implement social media methodologies to promote its services. But amplifying messages helps social media generate more traffic. So, if you have an e-commerce website, you can easily promote a sale on these platforms.
Now, how will you select a successful social channel? The truth is your selection varies based on the business model and type of prospects. So, you must test to see where you can achieve maximum awareness. That way, you must become familiar with where you must devote your resources and time. 
Regardless of where you post, the most important step is to ensure that it drives users to the targeted web pages. So, that helps you boost a clear connection between what your prospects see on social media and the links they visit. In short, increasing your social media reputation will positively impact website traffic.
6. Create New Content and Update Old Ones
Another tip on how to improve website traffic is to create new content. As an e-commerce business owner, a blog about fashion needs to answer the latest trends and illuminate niche topic ideas. So, it's great to choose information-packed topics like:
Key Trends to Follow This Summer or 

Summer Fashion Tips for Men/Women and more
Note that search engines focus on trendy and fresh content. You can't copy from other websites. Otherwise, search engines penalize the website. So, the best way to improve website traffic is by focusing on original and premium quality content.
Besides, you must update the website because visitors or first-time buyers always need an answer to return to your website. They want to share your content on social media platforms. In addition, search engine spiders are also eager to read fresh content.
That's where the importance of establishing off-site links becomes fundamental. It helps build valuable authority. If a website offers quality and information-packed content, Google automatically boosts its ranking.
Clean and bright images make a website aesthetically pleasing and inviting. Besides, they highlight a service or product. All in all, they are important, so optimizing these images is a critical step. To begin with, you need to shrink them down to a manageable size. You also need to keep every image under a megabyte in size. 
A digital marketing agency can better assist you in creating ongoing marketing campaigns and building a state-of-the-art website. If you want to upscale your business ranking, it's time to opt for digital advertising solutions from an expert. As a Hawaii-based business, select one of the recognizable web developers in Hawaii.
Want to talk soon?
Find an available time and we can connect soon.Book a no-obligation online consultation with us!
We'd love to hear from you!
Ready to progress together? Tell us about your requirements and we would be happy to help you. Please submit your query and we will be in touch!
Book your Free Consultation on our calendar now